Wouldn't you love to walk through the most organized closets in the world? Let's go on a journey through the closets of top interior designers and home organizers to see how they blend style with function.
1. Hang in Order
Perhaps the reigning queen of closet organization, design icon Marie Kondo encourages each person to determine what will give them a sense of order. Clothing organization is particularly important because we physically wrap ourselves in these precious items.
In Kondo's own closets, she uses a longest-to-shortest or darkest-to-lightest approach to organize her hanging items. She explains, "Put your longest or dark items on the left and then work your way to the shorter or light-colored items on the right. This will help keep your clothes organized throughout the different seasons."
2. Stop Wasting Space
Professional organizers Fillip and Jamie Hord suggest using slim hangers and double rods to get more out of hanging storage. As the Hords design their clients' closets, they take advantage of dead spaces at the tops and bottoms by building new shelves and storage features.
This tip isn't just for bedroom closets. Add more storage space to any pantry, laundry, or mudroom closet by installing additional high and low shelving. The back of a pantry door is also a great spot for a custom spice rack, napkin organizer, or towel holder.
3. Design in Visibility
Architect Duo Dickinson follows the adage, "Design in visibility." He explains, "Being able to actually see all your socks, ties, and underwear (versus only the top layer) gives you real choices when you get dressed. Take advantage of the many accessories available, such as see-through wire bins, acrylic- or glass-fronted drawers, drawers with dividers, and belt and tie racks, to keep items organized."
As you design closets, look for every opportunity to keep things within easy reach. Add open shelves for greater visibility. Avoid leaving dark, closed-off corners where belongings will inevitably hide and be forgotten.
4. Look to the Sky
No room for a window? Add a skylight instead. A top-floor closet benefits from a skylight or solar tube beckoning extra sunbeams into the space.
Designer Joy Cho prevents a narrow bedroom closet from feeling cramped by adding a long, thin skylight to the ceiling and installing a mirror at the far end of the closet. As a result, the entire area feels bright and welcoming.
5. Embrace Nontraditional Shapes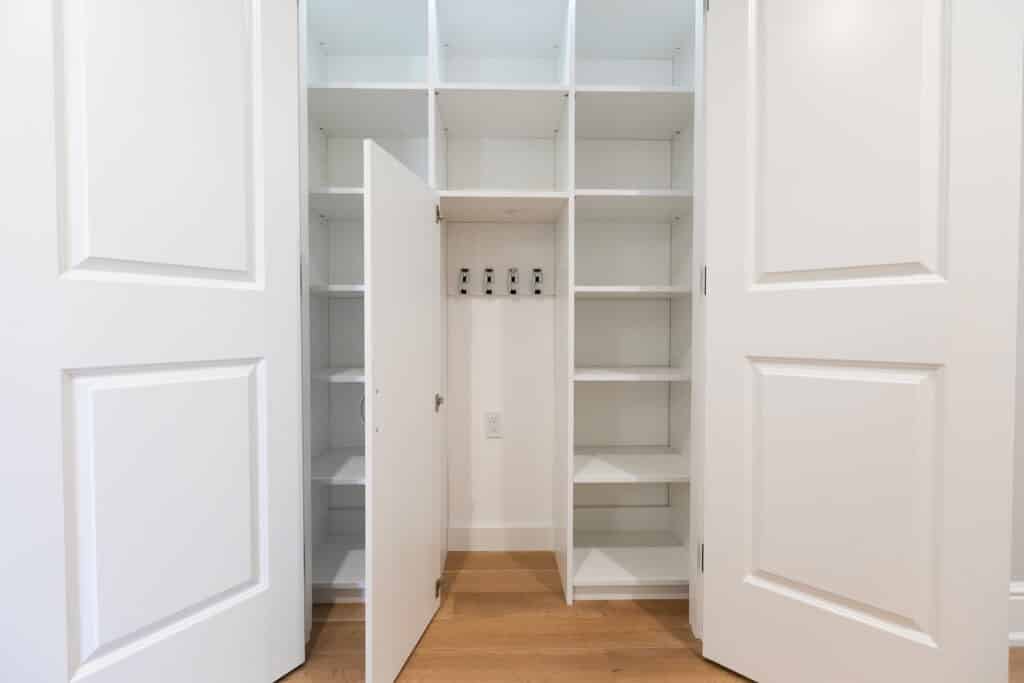 A closet doesn't have to be rectangular or square. The legendary Martha Stewart owns an L-shaped clothing closet so she can see everything inside at a glance. She has developed, "The mindset that the conventional in-line closet arrangement isn't necessary – you can create dedicated sections for clothing rods, shelves, drawers, and more to really make your space work for you."
Stewart advises homeowners to store out-of-season items outside elsewhere and rotate their belongings seasonally. This gives more breathing space and prevents closets from feeling cluttered and cramped.
6. Rethink Shoe Storage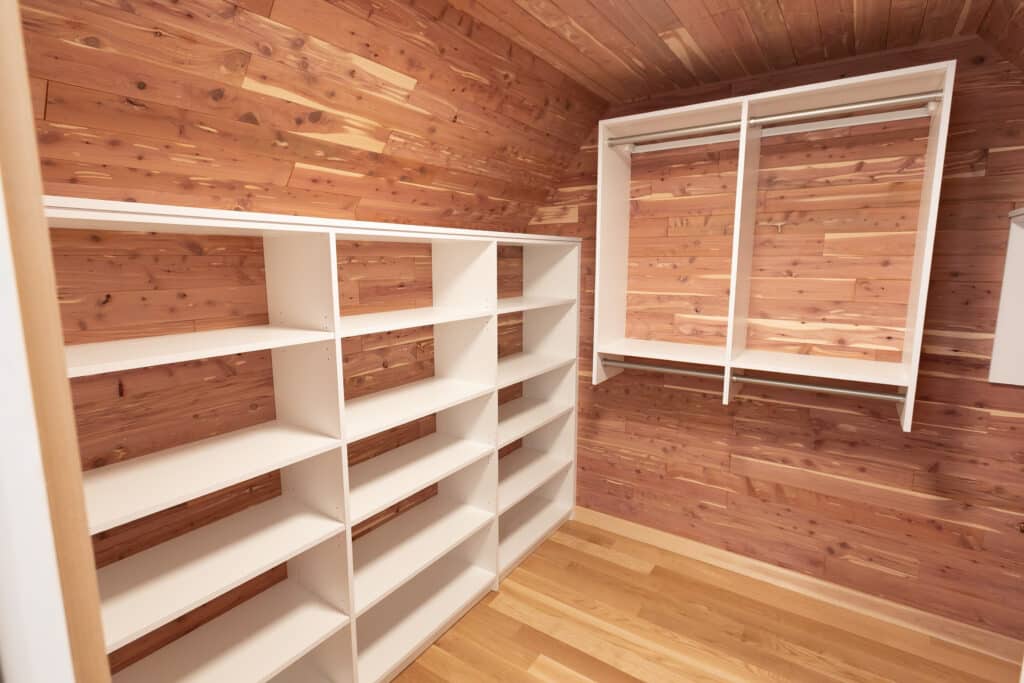 Jamie Novak, a professional organizer and the author of the book "Keep This, Toss That," follows an important rule for better bedroom closet organization: "Get your shoes off the floor."
Shoes are too hard to see when they're all jumbled up in a pile on the ground. Instead, store footwear in a column of vertical cubbies. For expensive or delicate shoes, keep them in clear acrylic boxes inside the cubbyholes so they're recognizable at a glance.
7. Follow Interior Designers on Instagram
Bobby Berk, interior designer and TV personality, suggests upping your closet design game by following more interior designers on Instagram. Why? Because they go behind the scenes!
Designers often give sneak peeks inside their own homes, showing off their closets and personal spaces on Instagram. It's even more helpful than seeing their clients' homes!
8. Install an Island
Houzz designer Sam Ferris suggests adding a center storage island while being mindful of the dimensions. A too-wide island makes a closet feel cramped, but a perfectly-sized island evokes a swanky dressing room.
Ferris explains, "Islands are a dream addition to any walk-in closet. But the spacing has to be right. A 36-inch walkway on each side of the island is ideal, but you can get by with 30-inch or 24-inch walkways if you're willing to sacrifice a bit of clearance space."
9. Add Aesthetic Pleasure
A luxury closet deserves high-end decor. Amp up closet style with thoughtful decorating choices like a hand-woven rug, piece of statement art, or glitzy chandelier.
Professional organizer Jenni Aron of Clutter Cowgirl says, "These small decorative touches will force you to keep that space in check so you can continue to enjoy it not just for storage, but for the aesthetic pleasure it offers."
ClosetParts: Your Closet Design Partner
Do you work in the closet design industry? ClosetParts can help you find the parts you need to create durable, functional, and stylish closets for your clients. Order online and have your closet parts delivered quickly for convenient installation.
Start Your Order Online or call 1-877-C-Parts1 (1-877-272-7871)