Choosing open vs. closed shelving is surprisingly controversial in the world of home design. Ask designers or homeowners what they think of open shelves and you'll get all kinds of answers.
Some people love the look of long, luxurious open shelves. Others find them to be too cluttered for comfort, preferring to keep everything behind closed doors.
HGTV's Property Brothers, Drew and Jonathan Scott, dislike open shelving because "real life isn't always beautiful" and open storage can look messy. But Food Network star Ina Garten famously loves open shelves for kitchen storage. She enjoys seeing her beloved dishware and cookbooks out in the open.
What's your take on open shelves? Before adding them to a home's layout, here are 3 important considerations to keep in mind.
1. Consider Your Tolerance for Clutter
Open shelves show off treasured items and make a bold statement in any room. For people with a strong tendency to stay organized, open shelves are a stylish way to keep things neatly and comfortably within reach.
Of course, open shelves can all too easily become crowded and disorganized. If they will be actively used for daily storage in the bedroom, kitchen, or mudroom, there could be an urge to cram extra items into every open space on the shelves.
Ask this key question: How well do you tolerate clutter? If the tolerance is zero, either eliminate open shelves or use them purely for minimalist decor. If seeing a bit of organized clutter isn't bothersome, open shelves are an option.
2. Find a Balance of Open vs. Closed Shelving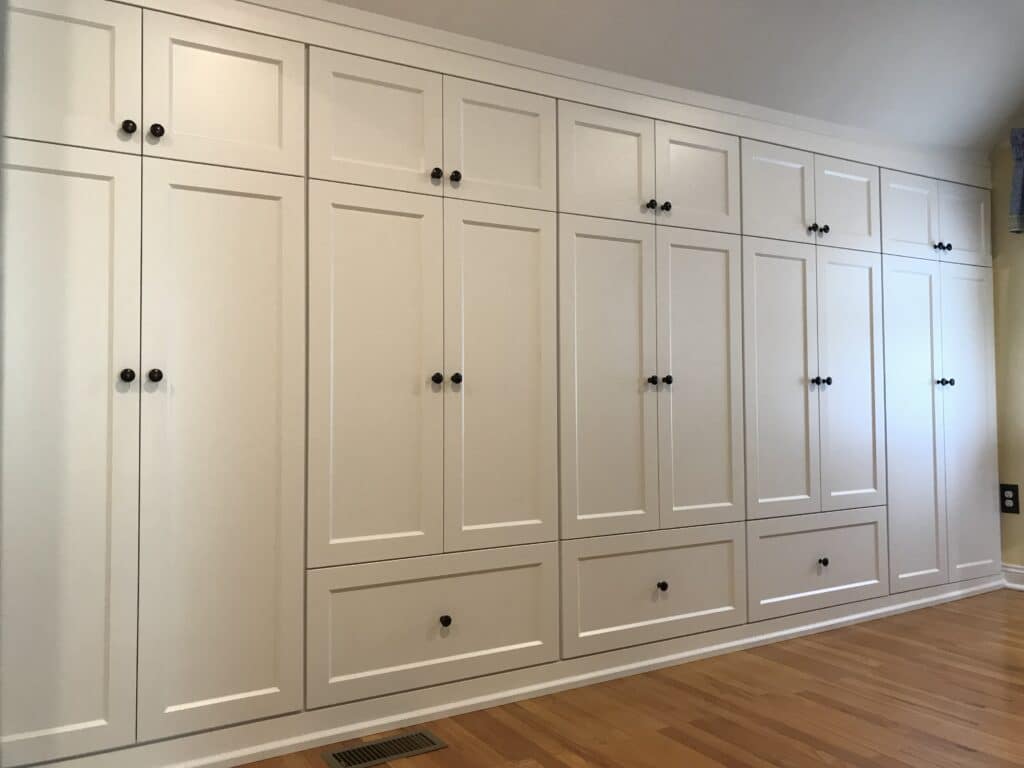 Like many things in life, home storage needs balance. Look for a way to balance out the desire for open shelves with a need for closed-door storage around the house.
For example, many homeowners enjoy having a few open shelves in their main living spaces to show off awards, mementos, and photos. These shelves can be mixed in with closed-door cabinets and drawers to store an array of other items out of sight.
In the bedroom, a long open shelf can hold folded pants and sweaters. If you have designer hats, purses, or shoes to show off, why not put them right out in the open? Everything else can go inside closet doors and drawers to give a sleek, finished look to the bedroom storage space.
Consider the need for safety and security, too. A household with expensive valuables and/or small children might be safer with more locked closets and fewer temptations on the walls. If you do choose to install open shelving with young kids in the house, work with professional installers to ensure it's fully bolted down to protect curious climbers.
3. Work With a Wholesale Parts Supplier
Whether you opt for open or closed shelving, you'll need to locate the right parts and assemble them in your preferred designs. An online partner like ClosetParts has a wide selection you can view and order online for fast, affordable delivery.
Working with a wholesale closet parts supplier is the perfect choice for a closet company or home designer who serves many clients with a variety of organizational needs. To learn more, see our FAQ and contact ClosetParts today.
Start Your Order Online or call 1-877-C-Parts1 (1-877-272-7871)