Every property owner or manager has probably pondered installing new closets. What if you need affordable, functional closets for an entire apartment building? Or what if your renters are complaining that their closets are too basic and they need more rods and drawers?
Good news: Ordering wholesale custom closets online is fast and easy. Custom closet systems are manufactured to your exact specifications no matter your budget or room layouts. Have them delivered and fully installed in your properties within just a few weeks.
At ClosetParts.com, we use a simple three-step process to create your closets: Create, ship, install. Here's how the process works and why it's an excellent choice for your properties.
1- Create Your Custom Closets
Everything starts with setting up an account and starting an online order. This is the first step in having your custom closets designed to your exact specifications using your preferred measurement specs, materials, closet layout, and budget.
Traditional efficiency apartments might only need simple, basic closet designs that maximize functionality and cost-effectiveness. Or, if you manage upscale apartments or larger multifamily dwellings, you may need to opt for closet upgrades that further enhance the space.
Select options like storage drawers, cabinets, open and closed shelving, rods, and finishing hardware. Whatever the shape and size of your closets, you'll find features that make them the right fit.
2- Ship Directly to the Site
One huge advantage of ordering wholesale custom closets is the ability to have them shipped directly to the site. That means you can opt to receive the closets at a busy construction worksite for immediate installation in a new apartment building, or you can have them delivered to a central location where you'll store them for future installation at various sites.
If you're wondering about the speed of shipping, you'll be pleased to learn that most orders ship within 7 to 10 days, putting your total project timeline at under two weeks. Some orders may take up to 15 days for shipping if you need custom pieces or have a specialty order.
At the job site, your order arrives carefully packed and ready for offloading. You won't need to worry about whether you'll be able to install them efficiently or whether you'll have all the parts. The closet systems arrive completely ready to install with no hassle.
3- Install Quickly and Easily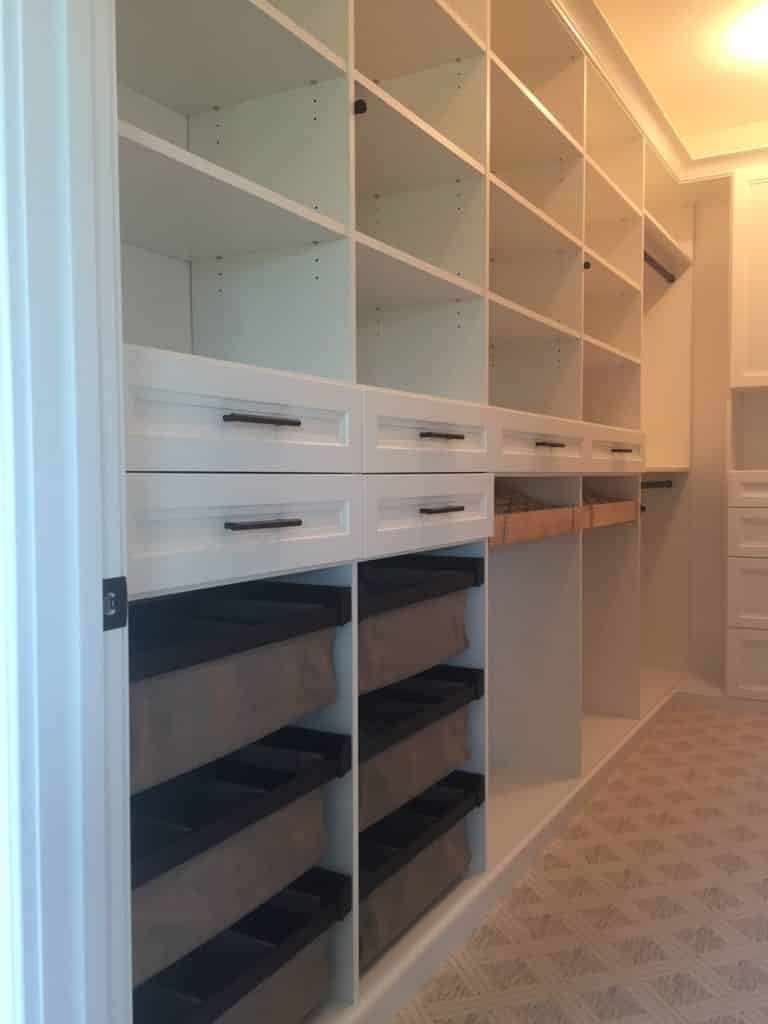 Upon arrival, your installers can handle the closet installation with minimal prior knowledge or training. The closets come with all of the pieces needed for assembly, and installation takes only some basic prep work and tools.
To guide your closet system installation, ClosetParts.com has created a series of four short YouTube videos that show a detailed step-by-step view of the process. The videos are narrated by a skilled installer from ClosetParts.com who understands the process inside and out and demonstrates each step.
Closet Installation YouTube Series from ClosetParts.com:
What if your person or crew is less experienced and needs additional training? No problem. Email to request training services from ClosetParts.com that can get your installers up and running within just a one-day training session.
We Make Custom Closets Easy and Affordable
At ClosetParts.com, we're proud to provide an array of quality, budget-friendly wholesale closet solutions for property owners, professional closet companies, developers, investors, and more. You'll love our easy ordering and installation process.
To learn more, please contact ClosetParts.com using the contact info below or start your custom order online. We look forward to working with you!
Email ClosetParts.com or call 1-877-C-Parts1 (1-877-272-7871)