One of the biggest trends in renting is the pursuit of luxury. Even modestly-priced rental units are attracting renters who desire luxurious lifestyles.
Rentals with luxury amenities have shown positive growth over the previous two years and the trend is expected to continue across all rental categories and rental price levels. When a rental offers extra amenities, renters tend to accept rental price increases between 1% and 10%.
This is a positive trend for landlords and multifamily unit owners. Renters are willing to pay more for luxuries, meaning you can pack more amenities into rentals, charge more for monthly rent, and maintain lucrative rental contracts.
Here's a smart way to add luxury to any unit: closet upgrades. Better closets expand your renters' storage options and keep them satisfied with their homes.
Why Wholesale Closets are Luxury Amenities
The words "wholesale" and "luxury" might not seem to go together, but they do. Wholesale closets are budget-friendly while feeling luxurious to your renters. They're the quickest and most hassle-free way to upgrade your rental closets.
Storage space is among the most-requested feature in new homes and rentals. On the flip side, a lack of storage space is one of the most common reasons people consider moving and pursue alternative solutions like self-storage units. Keep your renters happy and organized by providing high-quality closet storage space in their rentals.
As long as you select a reliable, trustworthy closet provider that offers high-quality closets, this is the ideal solution for multifamily housing. Here are the biggest benefits of wholesale closet orders:
Affordable pricing, because your wholesale order has no hidden fees, no waste, and no unexpected costs of installation.
Scalability for any size or number of multifamily housing units.
Speed from ordering to installation within a matter of weeks.
Flexibility in ordering exactly the closet size and shape you need.
Quality and durability, if you choose the right vendor.
Return on investment (ROI) from adding something affordable and seeing the positive impact on your rental income.
Ordering ClosetParts.com Closets
Start with a design consultation or online order through your preferred closet provider like ClosetParts.com. Select closet specs and the scale of your needs according to your desired design and budget options.
At ClosetParts.com, orders usually ship within 7 to 10 days and can be delivered directly to your job site. Orders with complex molded pieces and drawers take a bit longer to ship, typically 10 to 15 days. Rush orders and custom orders are available upon request.
After you receive your order, install the new closet systems in your units within a matter of hours. Your renters will be impressed with the ample storage options that come with an upgraded closet storage solution.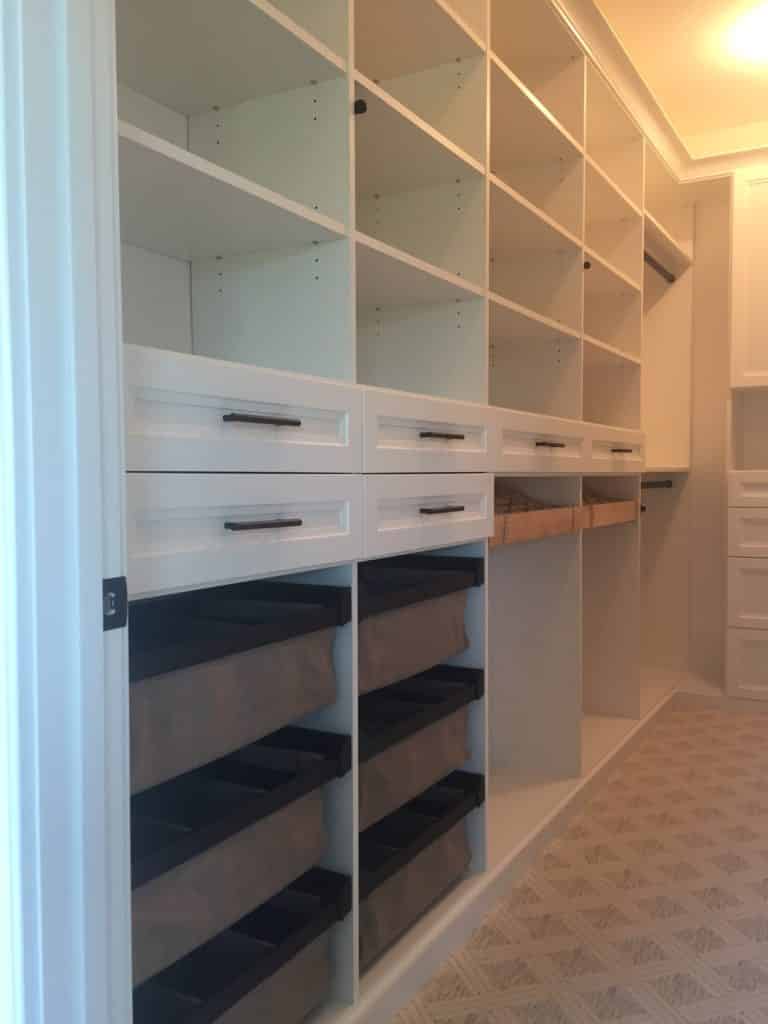 Wholesale Closets for Affordable Luxury
Why not give your renters luxury closets on a budget? They'll love their rentals and you'll love seeing the positive impact on your financial picture. Wholesale closet installation offers an affordable option for upgrading closets in multifamily dwellings like apartments, condos, and rental homes.
ClosetParts.com delivers affordable, high-quality closets with fast turnaround times. To learn more, please visit ClosetParts.com and start your custom order online now.
Start Your Order Online or call 1-877-C-Parts1 (1-877-272-7871)